Advent is one of those special times in the year when we get to stop and appreciate a unique kind of beauty and hopefulness around us. The leaves have changed colors, the sun rises earlier, and Thanksgiving and Christmas services bring out the best in all of us. We get to decorate, celebrate, and generally rejoice in this good news that cannot be contained. It's a time of year when we welcome many new visitors to the church––and we want the beauty of our services to shine.
That's why we created these free Christmas graphics to help you incorporate excellent artwork in all that you do this season. Our three sets of Christmas graphics will help you choose the design that best reflects your church and your members.
The gifts don't stop there! Along with these graphics, you will receive a free Advent devotional. Download or print this devotional to share with your members. The design of the devotional will match the design you choose for your Christmas graphics.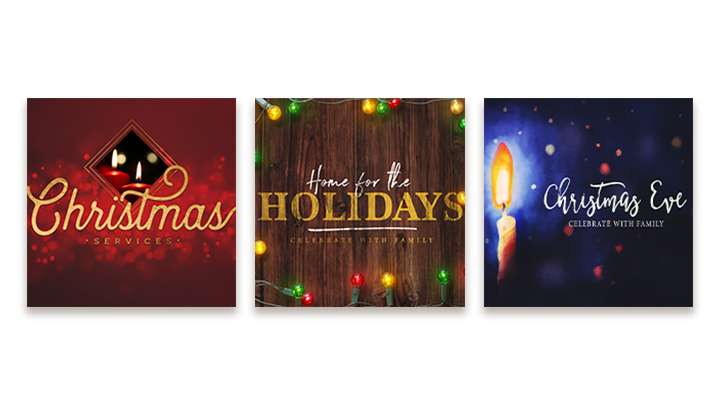 Get Your Free Christmas Graphics:
After you download your graphics, don't just let them sit on your desktop! From pre-service slides to Christmas cards (and every social media platform in between), here are 8 ideas for using your free Christmas graphics.
But First––The Technical Stuff:
Before you start placing images on your church website and in your newsletter, there are a few details you need to know about file types and how you can adapt them for your church's needs.
JPEG
A JPEG file is a "compressed bitmap" image. I.e., you won't be able to change this type of file in terms of size or visual effects. Think of them as ready-made, set to the right size for you to upload and use easily without needing changes.
PSD
On the other hand, we've also provided the original Photoshop files when you download your free graphics. This file type means that, as long as you have Adobe Photoshop, you'll be able to totally control all aspects of the image to adapt to your projects.
For example, if you love one of the graphics and want to use it on your homepage, but you'd rather use a different bible verse––you can change the text yourself using Photoshop.
Resizing Images
You can resize most images easily and totally on your own! All you'll need is a simple photo application, like Preview for Macs, and you can resize any image in that tool and save different file sizes for different uses.
Wouldn't it be awesome if, somewhere out there, you found a spreadsheet that was constantly updated with the exact images sizes you need for social media––even as the networks change and adapt to new technology? Sprout Social has you covered. That Google Doc is an awesome reference for the sizes, dimensions, and file types that you can use on networks like Facebook, Twitter, YouTube, and Instagram. We use it all the time, too!
Once you have the proper file types and sizes for your Christmas projects, you're ready to go.
You can also find this guide in the Church Graphic Design Kit. Download this kit to get several free guides, templates, fonts, icons, logos, and much more.
8 Ways to Use Your Free Christmas Graphics
Now let's jump right into it! We've brainstormed a bunch of places you can use these visuals to make this season merry and bright:
Social media: From your Facebook page's cover photo to your Christmas Eve posts, you'll need some beautiful images to capture the spirit of the season. Let the graphics shine as a great alternative to stock photos this year!
Homepage banners: Welcome your church website visitors with a warm, eye-catching display of your Christmas service times and locations. If it's the first thing they see on your homepage banners, they'll remember how important it is to come together as a community at this time of year.
Events: Your small groups and fundraising events bring a sense of closeness to your church as everyone mingles and wishes each other season's blessings. So why not promote your events with some of the same Advent images you're using throughout the rest of your communications this season? It just makes sense to use them on posters, online event listings, or local advertisements!
Newsletter: Accent important holiday newsletters with graphics that contain inspiring bible verses and images. You'll have a lot of eyes on your church communications during this busy season, so make sure they look inviting and engaging.
Sermon graphics: Incorporating imagery is a great way to make sermons stick in our minds. While your pastor is speaking (or when the sermon is displayed online), include some of the images that best illustrate the power and hope of that particular message or use the same background images for the text slides.
Invitations for bringing guests to events: You want your service invitations to make their way into the hands of everyone around––the more, the merrier during Advent and Christmas celebrations. Use some of these images on those invitations to give guests a sneak peek at the loving, beautiful environment you're creating for the actual services. This will also help new visitors to feel slightly more comfortable by seeing a familiar graphic.
Pre-service slides or announcements: You've got information for your members even before the services begin. This is a perfect place to include some of these graphics! For example, include a listing of all of the upcoming week's events for everyone to see as they fill up your space. This can help boost awareness and attendance of some of your Advent events.
Christmas cards: If your pastor or church sends out Christmas cards, it's an opportunity to use these graphics and show how blessed you've been this year. Try using one of the graphics on the front of your card for a personal touch.
Next Steps
Which of these ideas do you think you'll adopt during this year's Advent and Christmas communications? Whether you're looking to spruce up your seasonal social media or engage visitors who are totally new to your church, now is the time of year to take advantage of these free files. They're our gift to you during this time of hope, anticipation, and joy.
Get Your Free Christmas Graphics: